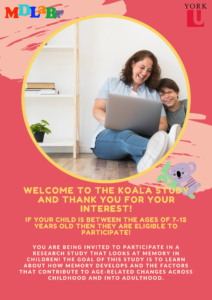 What you'll do:
You and your child will participate in one or two sessions with an experimenter. The session(s) will take place online, from anywhere you are most comfortable! Because the study will be conducted online, you will need a computer or tablet to participate. For this study, you and your child will speak with our researcher through online teleconference software called Zoom (see our Zoom instructions page). We will provide you with all the information and help to make this an easy and fun experience.
Parents have the option of participating in one session that is about an hour or two sessions that are separated by a week. During the session(s), the researcher will ask your child questions related to memory, attention, and language. Specifically, your child will be asked to look at pictures on your computer or tablet and answer questions about these pictures. Additionally, parents will be asked questions about their child's language and demographics. We will also ask for your permission to audio or video record these sessions.
These session(s) will be conducted during a time that works best for you – evenings and weekends are included. Further, you will receive a $10 online gift card to Amazon or Chapters (Indigo) for your participation as well as a Junior Scientist certificate for your child.
All participation is voluntary and completely confidential.
If you have any questions about the study or more information on what you and your child will be asked to do, please email us at mdlab@yorku.ca. Thank you for helping us advance research on children's development!
If you are ready to sign up and learn more, please click here.